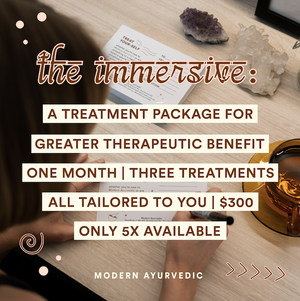 Immerse | to involve oneself deeply in a particular activity; to devote oneself fully.
Ayurvedic treatments are most effective when performed consecutively over a shorter period of time. While regular treatments, spaced monthly, are wonderful for maintenance - performing these closer together amplifies their therapeutic benefit. This is the basis of ayurveda's pancha karma - a methodical, individualised detoxification program - where treatments are performed for 7 to 28 days straight. 

The Immersive package is for those searching for a month of deeper shifts in mind, body and spirit, without the full commitment of pancha karma. This package is for you if you're:
Burnt out / depleted
Anxious / depressed
Inflamed / break outs
Struggling with sleep

Disconnected from self
Disconnected from true appetite
Disturbed in your digestion

 

Experiencing brain fog / lacking focus

Needing a therapeutic hug - to feel 'held'
Investment:
$300 for three ayurvedic treatments tailored to you. Depending on which treatments are recommended for you, you could save anywhere between $10-70 per session. 
Treatments may include:
shirodhara (oil, herbal milk, or herbal buttermilk - depending on your ailments)
abhyanga (warm oil massage)
pinda sweda (warm herbal bolus and oil massage)
The process + conditions of sale:
Purchase made for either yourself or as a gift to another

Include details of gift recipient in purchase notes/comments section
10 minute intro call provided by Madeleine to determine which treatments would be best suited for you (or your friend/loved one). Your personal preference is also discussed. 
Bookings for all three treatments are made during the intro call to ensure your and MA's availability align.
All three treatments must be completed within one month, ideally spaced within 1-2 weeks. 
Any outstanding treatments will not be redeemable outside of this 30-day period. 
Packages must be redeemed before March 2024.
Limited offer: Subject to availability. Only five packages available for purchase.