Tongue Cleaner - Pure Stainless Steel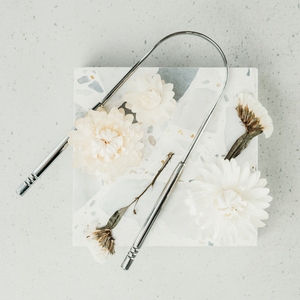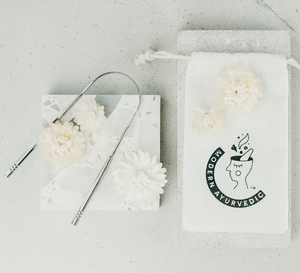 Product image 1
Product image 2

AYURVEDIC SELF-CARE TOOL
Premium quality pure stainless steel 


Unique contoured design for superior cleaning

V- P- K-
BENEFITS
Reduces toxins and bacteria from the tongue
Enhances taste 
Gently stimulates internal organs of detoxifcation and digestion 
May help alleviate halitosis
Creates awareness of internal health
AYURVEDIC ACTION
Did you know that tongue cleaning is an ancient Ayurvedic self-care ritual and an super effective daily detox treatment?
Unlike tooth brushing and flossing, tongue cleaning works to prevent the re-absorption of undigested food particles that linger on the tongue. Left untouched, these bad boys accumulate to form a discoloured thickened coating - aka ama.
Ama promotes microbial imbalances in the oral cavity and digestive tract, which can cause bad breath, poor oral hygiene, weak digestion and unwanted toxicity within the body.

According to Ayurveda, the surface area of the tongue maps to the internal organs. The act of tongue cleaning applies gentle pressure over the entire surface of the tongue, awakening the major organs of detoxification and elimination, so your detox digs way below the surface.  
Need we say more? Tongue cleaning is up there with our top Ayurveda health habits. 
SUGGESTED USAGE
Place the curved edge of the tongue cleaner at the back of the tongue and gently glide over the tongue using light pressure. Rinse waste, and repeat as required. 

Tongue cleaning is most effective when done twice daily, before taking liquids, rinsing the mouth, flossing or brushing teeth.