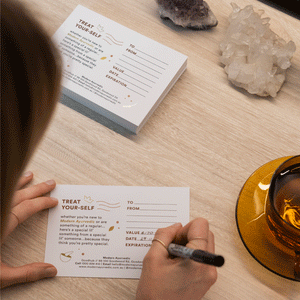 Friend, family, teacher - no matter the connection, sometimes we wish to give back. Whether it's for the birthdays, the Christmas', the apologies, an 'I love you', or maybe 'just because' - a moment of wellness is a powerful gesture that ripples deeper into the mind, body and spirit of the receiver. 
A chance to pause,
to connect,
to reflect,
to heal
the heart, the mind, the body, the soul. 
Modern Ayurvedic has both digital and physical gift vouchers available to purchase.
Physical gift vouchers are only redeemable via the Modern Ayurvedic Clinic and must be treated like cash - keep them safe. These can be sent to you for an additional postage fee, of $9.95 which has been automatically incorporated into the cost when ordering online. Please note that gift cards will have 'To' and 'From' left blank for you to complete prior to gifting. 
Alternatively, they can be purchased and/or collected from the clinic, where Madeleine will organise an appropriate time with you. To arrange purchase and/or collection via the clinic, please email madeleine@modernayurvedic.com.au.