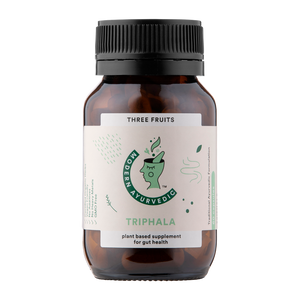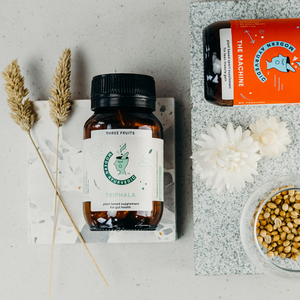 Product image 1
Product image 2

THREE FRUITS
Plant based supplement for gut health
60 gluten free capsules 
V= P= K=
BENEFITS
Detoxifies and cleanses all tissues
Normalises bowels
Muscle recovery
Microbial balance
Gut restorative 
INGREDIENTS
Emblica officinalis (Amalaki),†‡ Terminalia bellirica (Bibhitaki),‡§ and Terminalia chebula (Haritaki).†‡§ 
Certified organic herbs
Vegan and gluten free capsule
No additives
No heavy metals
GMO free 
Each capsule contains a minimum total of 500mg of dried plant material
AYURVEDIC ACTION
Here, in plain Sanskrit, is the action (karma) of the wonders in Triphala. We know you don't read Sanskrit. There are direct translations too. No fillers. No filters. Completely untouched. Just like your organic herbs.
अनुलोम
†Anuloma (arnoo-low-ma)
adj. regular
v. to flow in the natural direction
to keep it regular
आयुर्दा
‡Ayurda (eye-er-dah)
n. elixir
v. to give life and longevity
because the elixir exists
पाचन
§Pacana  (pah-chuna)
n. fire
v. to cook, digest or assimilate
to get the goods in 
SUGGESTED USAGE
Take 2 capsules with warm water before bed.
HOW TO COMBINE
 

Morning

Noon

Night

TRIPHALA

 

 

2 caps

+ ASHWAGANDHA
2 caps
2 caps

+ ONE OF

THE FEMME / MASC-LETE OR

2 caps

2 caps

 
ASHWAGANDHA
+ BENEFITS
Powerful adaptogen
Anti-inflammatory, tonic, nervine
THE FEMME-LETE
+ BENEFITS
Hormone balance (Feminine, Moon, Venus, Shakti)
Blood cleansing and skin health

THE MASC-LETE
+ BENEFITS
Hormone balance (Masculine, Sun, Mars, Shiva)
Hair health