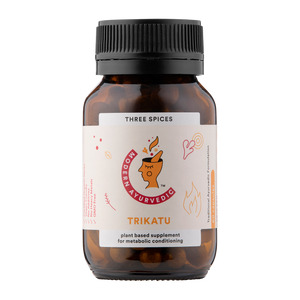 Product image 1

Product image 2

THREE SPICES
Plant based supplement for metabolic conditioning
60 gluten free capsules 
V+ P+ K-
BENEFITS
Thermogenic
Restores cellular metabolism
Detoxifies deep tissues
Body composition reconditioning
INGREDIENTS
Piper longum (Pippali),†‡§ Piper nigrum (Maricha) †‡§ and Zingiber officinale (Ginger).†‡§
Certified organic herbs
Vegan and gluten free capsule
No additives
No heavy metals
GMO free
Each capsule contains a minimum total of 500mg of dried plant material
AYURVEDIC ACTION
Here, in plain Sanskrit, is the action (karma) of the fire crackers in Trikatu. We know you don't read Sanskrit. There are direct translations too. No fillers. No filters. Completely untouched. Just like your organic herbs.
स्थौल्यमेदोघ्न
‡Sthaulyamedoghna (sta-lya-medo-gana)
adj. to destroy dense fatty tissue
for body comp reconditioning
आमनाशन
†Amanasana (ahh-ma-NAH-zar-na)
v. to abolish the undigested
to detox
योगवाही
§Yogavahī (yoga-vah-ee)
v. to catalyse or conduct
for bio-enhancing 
SUGGESTED USAGE
Take 2 capsules with or before breakfast and dinner. Do not use in cases of excess heat, gastric inflammation or related conditions. Not recommended to be used continuously.
HOW TO COMBINE
 

Morning

Noon

Night

TRIKATU

2 caps

 

2 caps

+ TRIPHALA

 

 

2 caps

+ ASHWAGANDHA
2 caps
2 caps

+ ONE OF

THE FEMME / MASC-LETE OR

2 caps

2 caps

 

THE MACHINE

2 caps

 

2 caps

THE YOGI

 

2 caps

2 caps
TRIPHALA
+ BENEFITS
Improved uptake of The Machine
Enhanced tissue renewal
ASHWAGANDHA
+ BENEFITS
Powerful adaptogen
Anti-inflammatory, tonic, nervine
THE FEMME-LETE
+ BENEFITS
Hormone balance (Feminine, Moon, Venus, Shakti)
Blood cleansing and skin health
THE MASC-LETE
+ BENEFITS
Hormone balance (Masculine, Sun, Mars, Shiva)
Hair health
THE YOGI 
+ BENEFITS
Support for active minds
Promotes consciousness