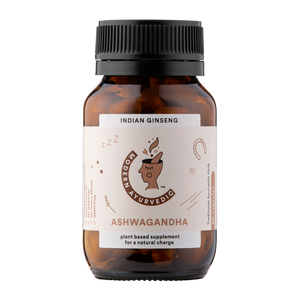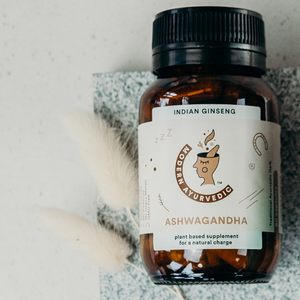 Product image 1
Product image 2
INDIAN GINSENG

Plant based supplement for a natural charge
60 gluten free capsules
V- P= K-
BENEFITS
Powerful adaptogen
Increases muscle mass + strength
Tonic, nervine, anti-inflammatory
Normalises sex hormones
Sleep aid
INGREDIENTS
Withania somnifera (Ashwagandha).
Certified organic herbs
Vegan and gluten free capsule
No additives
No heavy metals
GMO free
Each capsule contains a minimum total of 500mg of dried plant material
AYURVEDIC ACTION
Here, in plain Sanskrit, is the action (karma) of this Ayurvedic champion. We know you don't read Sanskrit. There are direct translations too. No fillers. No filters. Completely untouched. Just like your organic herbs.
ओजस्वर्धन
Ojas vardhana (oh-jus vard-arna)
v. to increase vigour and bodily strength 
for primal power
मांसवर्धन
Mamsavardhana (ahh-ma-NAH-zar-na)
v. to exhilarate muscle tissue (yes, this is the translation)  
to build quality muscle tissue
निद्राजनन
Nidrajanana (nid-ra-tar-na-na)
v. to birth sleep
for a restful sleep
SUGGESTED USAGE
Take 2 capsules with warm water after breakfast and before dinner. Not recommended if pregnant.
HOW TO COMBINE
 

Morning

Noon

Night

ASHWAGANDHA

2 caps

 

2 caps

+ TRIPHALA

 

 

2 caps

+ ONE OF

THE FEMME / MASC-LETE OR

2 caps

2 caps

 
TRIPHALA
+ BENEFITS
Improved uptake of Ashwagandha
Enhanced tissue renewal

THE FEMME-LETE
+ BENEFITS
Hormone balance (Feminine, Moon, Venus, Shakti)
Blood cleansing and skin health

THE MASC-LETE
+ BENEFITS
Hormone balance (Masculine, Sun, Mars, Shiva)
Hair health