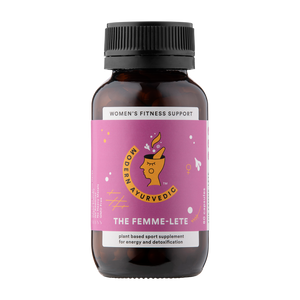 Product image 1

Product image 2

WOMEN'S FITNESS SUPPORT
Plant based sport supplement for energy and detoxification

80 gluten free capsules 
V- P+ K-
BENEFITS
Muscle recovery
Hormone balance (Feminine, Moon, Venus, Shakti)
Metabolic conditioning
Blood cleansing and skin health
Deep tissue rejuvenation
INGREDIENTS
Asparagus racemosus (Shatavari),‡† Boerhavia diffusa (Punarnava),‡ Boswellia serrata (Shallaki),§ Curcuma longa (Turmeric),§ Emblica officinalis (Amalaki),‡†§ Rubia cordifolia (Manjistha),‡†§ Terminalia arjuna (Arjuna),†§ Terminalia bellirica (Bibhitaki), Terminalia chebula (Haritaki),‡ Withania somnifera (Ashwagandha)‡†§ and Piper longum (Pippali).‡ 
Certified organic herbs

Vegan and gluten free capsule

No additives
No heavy metals
GMO free
Each capsule contains a minimum total of 500mg of dried plant material
AYURVEDIC ACTION
Here, in plain Sanskrit, is the action (karma) of The Femme-lete gems. We know you don't read Sanskrit. There are direct translations too. No fillers. No filters. Completely untouched. Just like your organic herbs.
वाजीकरण
†Vājīkaraṇa (vAH-GEE-kara-NAH)
adj. potent, hero, warrior, warlike, wings
for Shakti power
रसायन
‡Rasāyana (ruh-cy-UH-na)
n. chemical, elixir
v. to rejuvenate
because adaptogens are in
रक्तशोधन
§Raktaśodana (ruck-ta sho-da-na)
v. to purify, refine and cleanse blood
for your skin

SUGGESTED USAGE
Take 2 capsules with warm water before breakfast and lunch.
HOW TO COMBINE
| | | | |
| --- | --- | --- | --- |
|   | Morning | Noon | Night |
| THE FEMME-LETE | 2 caps | 2 caps |   |
| + TRIPHALA |   |   | 2 caps |
| + ASHWAGANDHA | 2 caps | | 2 caps |
TRIPHALA
+ BENEFITS
Improved uptake of The Machine
Enhanced tissue renewal
ASHWAGANDHA
+ BENEFITS
Powerful adaptogen
Anti-inflammatory, tonic, nervine